How can you create workspaces that attract and retain people?
Changes in employee expectations now demand very different workplace experiences. Organisations getting it right are putting their greatest asset first: their people.
Successful workspaces are designed to provide experiences that attract and retain talented workers and allow for social engagement and collaboration. While the office will remain central, smart organisations are reimagining its purpose providing experiences that matter. Leading organisations are shaping inspiring spaces into hives of culture and innovation centers transforming their real estate into competitive advantage.
Experiences that matter: Considering the emotional, physical and virtual dimensions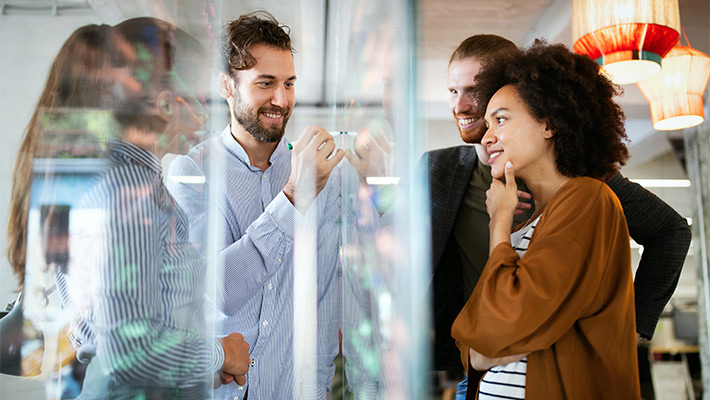 Create a future-focused workplace
Building a future-focused workspace will not only enable experiences that attract and retain top talent, but it will also help to reduce operating costs, improve sustainability, optimise operations and propel employee performance.
Check out our latest experience and design insights
Worker Preferences Barometer 2021: How employee attitudes & expectations have changed
Our research reveals that forced adoption of remote working has created opportunities, but it is also exposing new social risks. Workers are experiencing an increased amount of virtual burn-out and are eager to get back to the office.
Shaping human experience
In this latest research, we identify four emerging worker profiles, each with unique expectations that will need to be balanced to maximize workforce engagement, commitment and satisfaction.
Why hybrid workplace pilots are taking off
Companies are launching pilot programs to try new ways of working, an effort aimed at learning what works best before investing in new workplace concepts across their entire real estate portfolios.
Transforming a corporate workplace
One of Australia's largest superannuation funds wanted a flexible office.
Gumtree
Following their acquisition of CarsGuide and Autotrader, Gumtree needed a new office to bring their businesses together.
Finding SEEK a new global headquarters
We turned SEEK's vision for its business into a workplace for this generation
Talk to us about creating workspaces that attract and retain talent
PRIVACY NOTICE

Jones Lang LaSalle (JLL), together with its subsidiaries and affiliates, is a leading global provider of real estate and investment management services. We take our responsibility to protect the personal information provided to us seriously.
Generally the personal information we collect from you are for the purposes of dealing with your enquiry.
We endeavor to keep your personal information secure with appropriate level of security and keep for as long as we need it for legitimate business or legal reasons. We will then delete it safely and securely. For more information about how JLL processes your personal data, please view our privacy statement.